After my brief forced hiatus thanks to school, my wisdom teeth, and more school, I was able to finally collect enough research to write the second part of my Trakehner series. While these horses have my heart, let me tell you that collecting information on them in an organized fashion requires a lot of research and sometimes, the brain power I lack. However, this breed and these horses deserve to have more understanding and recognition. Without further ado, let's dive in!
For the longest time, it was a common stereotype to hear that Trakehners could not compete at the highest level of any discipline. In fact, I heard that a couple of times from you guys on my question box. So, while part one shared much more history, this "who and where" section is going to get into a lot of past and present Trakehners in the upper-level competition scene and how much they've contributed to the modern sport horse, as well as current Trakehners competing around the world today.
A quick recap: Trakehners were prized calvary horses in Trakehnen, comfortably situated in East Prussia. The breeding was a closed studbook and highly selective to make sure that only the best of the best reproduced. They were hardy, hardworking horses, full of stamina and beauty. While many Trakehners competed in the Olympics at eventing, many others found their face in endurance, steeplechase, and fox hunting. As time progressed, and famous Trakehners like Kronos, Absinth, and Nurmi became more sport horses, Trakehner were ahead of the curve compared to other breed registries who through that focusing on producing horses for an exclusive sport horse purpose, was of little concern. Then came WWI and WWII. The loss of human life and society was devastating, but much like the looting of priceless art that took place in WWII, there were additional tragedies. The Trakehner became nearly extinct after the infamous Trek that took place in early 1945. Eventually, the breed was reunited into a central stud, and the Trakehner Verband was formed.
Trakehners went on to influence the Hanoverian breed massively through a stallion named Absatz. Absatz was a Trakehner, by Abglanz, and while not the ideal specimen of a horse (sometimes a touch spooky, not as active behind as they could be, and a little weak in the back), he was a pivotal change in the Hanoverian breed. One of my favorite quotes regarding Absatz foals was that "all of a sudden, elegant foals with that certain look would appear next to mothers that still looked like a mixture of draft horse, dairy cow and lorry." Now, if that is not giggle worthy, what is? His influence can still be found in Akzent II and Argentines bloodlines today.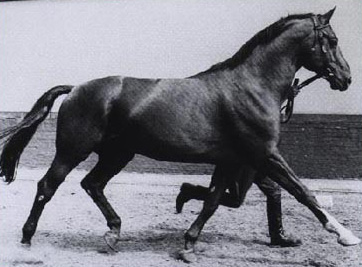 By Abglanz (Termit TK/Abendluft TK), out of Landmoor (Landeck/Schlinka), 1960 model, 166cm.
Another Hanoverian stallion highly influenced by Trakehner breeding was Stakkato, a remarkably famous stallion out of the Celle State Stud and ridden by Eva Bitter at Grand Prix show jumping. Stakkato is by Spartan, who is by Servus (Sesames I/Dominus/Goldfisch II), from the illustrious Trakehner mare line Semper Idem on his sire's side, and the well known Trakehner stallion Patras on the dam's side. At his Bundeschampionate in 1998, his jumping form was so perfect that the inspectors desperately wanted to score him a straight 10. However, a tiny piece of his tongue was visible, and they settled for a paltry 9.9. His dam, however, was one of the very few to be rewarded with a 10 for jumping technique. Like mother, like son.
By Spartan (Servus/Gottlide), out of Pia (Pygmalion/Goldfeder). 1996 model, 165cm.
Where I left off was in the mid-1960-70s. This time is were things get… Tricky? While there were many famous horses to prove that Trakehner breeding was alive and well (every heard of ABDULLAH???), politics were bubbling under the surface that had massive ramifications. The idea of this handful of special sport horses remaining after the trauma of WWII left breeders with a focus less on sport horses and more on aesthetics. The stallions became popular for their beauty, despite their poor toplines, a lacking work ethic, and less than impressive, very flat movements lacking any knee action and biomechanic incorrectness. These issues were most frequently blamed on a rider - "They're just not able to ride something so sensitive and special as a true Trakehner." Once these issues floated to the surface in competitive warmblood circles (in addition to a lacking of jumping ability), the third decline of the Trakehners began.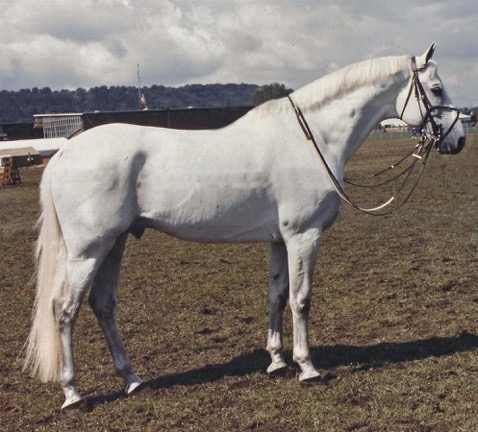 By Donauwind *E* (Pregel/Donaulied vom Schimmelhof), out of Abiza *E* (Maharadascha/Abendrot)
After a serious look at the breed, it began to blossom as breeders refocused on substance over style, and the German breeders never lost faith. We have the eventers to thank for this. Despite the breed politics, some Trakehners continued to succeed at the highest levels of competition. As if I needed another reason to love Dr. Reiner Klimke more, he produced the now legendary Habicht (born in 1967), while Dr. Klimke was still eventing. Habicht performance record speaks for itself. He won the acclaimed international three-day event at Achselschwang in 1977 in the harsh mountainous terrain near Munich, and Habicht was the best placed Trakehner at the CCI**** in Burghley 1976. If you read part 1 of this lengthy educational dissertation, you might remember that name from somewhere else. Habicht also proved himself in the breeding stallion, producing Windfall *Pg*E* (mentioned supra), and 10+ other approved stallions, including Mauritius, Effekt, E.H. Parforce, Kolumbus, Empire, Markant, Balzflug, and Vivus.
By Burnus (Lapis ShA/68 Fenek V), out of Hallo (Goldregen/Handschelle), 1967 model, 166cm.
By far the most important colt Habicht sired was E.H. Sixtus, born in 1989 and one of the youngest Elite Trakehner stallions. Not only approved and graded premium, but he was also named best jumper of the year - high praise for a breed struggling with poor jumping technique. In a strange twist of fate, Sixtus was the end of Habicht's life. A kick from Sixtus to the hock of Habicht shattered the leg irreparably. Sixtus was a tremendously stunning mover with classic good looks and conformation, signifying a return to what Trakehners really were - multipurpose. He was consistently in the ribbons with a good amount of wins at the 1.40-meter classes. Sixtus, like his sire before him, proved himself in the show ring AND breeding shed, producing, despite his reputation for knowing just how priceless he was, a plethora of approved stallions that shaped the Trakehner we know today. These include, but are not limited to, E.H. Axis TSF, E.H. Buddenbrock, E.H. Kasparow, Donaulwalzer, and Fandango.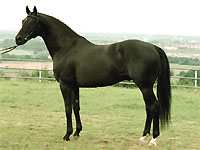 By Habicht (Supra), out of Stradelle (Ibikus/Starlet). 1989 model. 170cm.
Now, we move to the 1990s and still dealing with the Trakehner's unfortunate reputation as sport horses. However, it began to, slowly but surely, change. The Trakehner Sportpferde Foerderung (TSF) sponsored its first horse – an Arabian Trakehner White Girl TSF – by Baja (Suakim/Gazelle), and out of Wiga (Marengo/Wiernerin). TSF is a club dedicated to supporting Trakehners in sport and partnering young horses with the appropriate riders. The TSF suffix is well known now in Trakehners, but I'm embarrassed to say that before I began researching for this article, I thought TSF was a training conglomerate, not a club for producing representatives of the breed.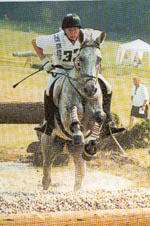 By Bajar (Suakik/Gazelle), out of Wiga (Marengo/Wienerin). 1983 model.
In eventing, White Girl TSF earned an individual bronze medal at the 1994 WEG under Peter Thomsen. In France, Yarlands Summer Song (Fleetwater Opposition/Welton Gazelle) shone under Maria-Christine Duroy, earning an individual silver medal at the same WEG as White Girl TSF in 1994, coming 8th at Badminton in 1995, and helped earn France team 4th in the 1996 Olympics. On top of that, New Zealand's Andrew Nicholson campaigned the Trakehner stallion Jaegermeister II (by the imported Polarschnee) at the 1994 WEG as well as contributed to New Zealand winning a bronze medal at the 1996 Olympics. Jaegermeister II, affectionately known as Mick, is one of the horses that helped earn Nicholson his title of "Mr. Stickability" at 1995 Badminton - see video below. Simultaneously, Windfall, discussed supra, was gaining his Bundeschampionate qualifications in dressage and eventing and was the star of Germany with Ingrid Klimke.
In dressage, the 90s were dominated by Trakehner stallions. Almost no other warmblood registry had as many licensed stallions competing successfully in the FEI levels. This included Grand Prix stallion E.H. Gribaldi (discussed supra), Inter. II champion Martini *Pg*, Grand Prix stallion E.H. Monteverdi TSF (out of ES Miami, by Matador), Grand Prix E.H. Ravel (by Mahagoni, by Rauhe, by Donauwind), Grand Prix stallion and 1991 Pan Am Gold team medalist and individual bronze medalist Kronjuwel II (Matador, Kordia, by Mazagram), Grand Prix stallion (and grandsire to my own Fair Joy *Pb*!) E.H. Van Deyk (Patricius xx, Vanessa, by Ibikus), Grand Prix stallion Schwadroneur (E.H. Arogno, out of E. St. Schwalbenburg, by Ibikus) who was named Trakehner Stallion of the Year in 2003 for his endless achievements in Denmark after his exportation from Germany, Grand Prix stallion E.H. Friedensfürst (by Rondo, out of Frieda, by Gelria), Grand Prix stallion and contributor to the 1996 Olympic bronze medal earned by team USA as well as an individual 5th placing Peron *Pg*E* (Mahagoni, Peru II, Coktail), Grand Prix stallion and team silver contributor at the 1994 WEGs Heuriger (Herzbube) … The list goes on and on. Some of the most famous and influential sires developed in the mid-90s, producing the Trakehners we know today.
By Mahagoni (Pasteur xx/Maharani), out of Puru II (Coktail/Peridta IV).
Despite the rise of competitive Trakehners in all levels across disciplines, the opinions of Germans didn't change. Trakehner = complicated, spooky horses. Even with all of the horses doing well in the upper levels, a relatively small amount of foals were being produced – on average 1100 per year (compare this to the, on average, 20,000 Thoroughbred foals born each year in the states). Something to consider is how the Trakehner benefited from the Iron Curtain, with horses bred in former East Germany (GDR) were talented, fabulous jumpers, and the Russian/Baltic lines have profoundly contributed to jumper lines since. In particular, Prussian stallion Hockey, aka Khockey (Pomerantes ox, Hasa, Hrisolit) was a massive contributor to the breed, including Almox Prints, a 1988 and 1992 Olympic games participant, and Biotop (dam's sire Hockey) who was the last dressage Grand Prix horse of Dr. Reiner Klimke.
By Blesk (Eol/Bespetschnost), out of Plaska (Hockey/Peptona). 1985 model, 172cm.
In the early 2000s, the sons of the aforementioned stallions began to follow an exceptional upward trajectory. These include Hofrat, sire to the incredibly famous Hanoverian stallion Hotline, out of a De Niro mare. Despite Paul Schockenmohle's normal aversion to Trakehner blood, Schockenmohle and Blue Hors stud bid €800,000 for the Hanoverian young horse. This marked a change in Trakehner acceptation in the modern breeding conscious – If Schockenmohle was willing to spend that kind of money on a half Trakehner, the breed must have changed for the better. On top of this, Joy's grandsire E.H. Van Deyk's offspring continued to change the narrative. Van Deyk was known for his "here I am" attitude, a fighter for his rider, full of character and requiring experienced hands. Van Deyk changed the flat front legs in the canter into a much rounder, scopier stride, and he was Dorothee Schneider's first top-level horse. This became most prevalent with two of his approved sons: full brothers Kaiserkult TSF (A successful Grand Prix stallion under Dorothee Schneider and a success in the breeding shed) and Kaiserdom TSF), both out of St. Pr. St. Kimora, by Gajus. The K colts did something never before seen in the Bundeschampionate – both stallions won the 6-year-old titles in consecutive years.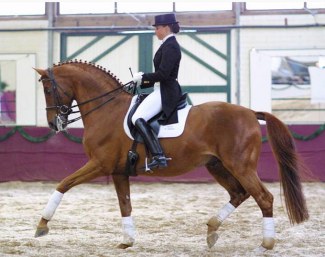 By Patricius xx (Kaiseradler xx/Pura Plata xx), out of Vanessa (Ibikus/Valerie). 1984 model. 170cm.
Another astounding sport horse son of Van Deyk is E.H. Polarion. He was Trakehner champion his 6-year-old year and begun his PSG campaign as a 7-year-old. Laura Bechtolsteimer made her Grand Prix debut upon the tall, big-boned bay, and her trainer Markus Gribbe took over the ride. One of the greatest things about Polarion was his progeny. In particular, E.H. Grafenstolz TSF.
By E.H. Van Deyk (Supra), out of Polaried (Insterruf/Pomern). 1993 model. 172cm.
Grafenstolz, aka "the Graf," is particularly famous for being ridden by Michael Jung, then triple European Young Rider eventing champion. They qualified for the Bundeschampionate in all three disciplines: dressage, show jumping, and eventing. His success was not fleeting – he won the eventing with a 95% averaging a 9.7 /10, then he won the 6-year-old eventing championship at Lion d'Angers, and won a bronze medal at the German championship in Schenefeld. He was rumored to be Jung's ride for the 2008 Olympics, but that never came to fruition. However, he won Trakehner Horse of the Year in 2006, was a puissance winner at just under seven feet, and won at Compiegne in 2007 and 2008, and he has been ranked 15th in the world for eventing sires by the WBFSH and has stayed secured in 15th since 2015. The average score of his first foal crop was 8.2, and his foals have consistently scored premium marks across the globe. If you want eventing Trakehners, this is a name worth salivating over.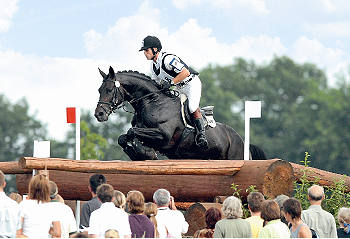 Grafenstolz (Supra) 1998 model. 169cm.
Today, the Trakehner has turned from its possible demise and is gaining more and more respect as a sport horse as the time passes. The Trakehner has returned to a place of rideability, elegance, lighter bones with unending energy supply, and in 2019, the influence can be seen in every discipline. While yes, typically smaller in stature than the giants seen bred from other warmblood registries and yes, lighter boned and slightly more sensitive, the old adage that a "Trakehner can never compete at the FEI levels in any disciplines" is beginning to fall away.
Believe it or not, not one but two Trakehners recently ran around the Land Rover Kentucky 5* last month! Both Windfall sons, Vandiver *Pg* ( out of Grandeur, by Mystic Replica xx) and Tsetserleg *Pg* (out of Thabana *M*, by E.H. Buddenbrock) placed in the top five. Vandiver, aka "Quinn," moved from 19th after dressage to 5th after show jumping, and Tsetserleg, aka "Thomas," moved from 3rd after dressage to 2nd after show jumping under Doug Payne, making them the highest placed U.S. pair under Boyd Martin. Both Trakehners are American bred and great examples of what Trakehners can do on a 5* course. Young and upcoming stallions include Danonicus (Abendtanz – Zollner xx) who placed 2nd at Hanover with an 86%. Tamara Smith currently has the ride Sunsprite Syrius who is a minted 3*** U.S. bred Trakehner (Titulus/Slytely Cinnamon xx/Silent Fox xx). He last competed in March of 2018 but is unique in the fact he has yet to place outside the top three in any FEI event he's participated in. In Germany, Koenigssee 4 (Intercont/Koenigsfee III/Tambour) is in expert hands of Ingrid Klimke and winning through CIC1*.
Currently, TSF Dalera BB (Easy Game – Handryk) is being expertly piloted by Jessica von Bredow-Werndl in her first outdoor Grand Prix season, scoring nearly 80%, most recently placing second in Hagen. Additionally, Anabel Balkenhol is riding the approved stallion Heuberger TSF (Imperio/Michelangelo) placed 8th in the GP Special scoring 75.5%. Jessica von Bredow-Werndl has a special place for Trakehners, with her own Unee BB being sired by Gribaldi and currently producing a talented Trakehner mare named Pr.a.StPrSt. Kavalou (Shavalou/Pr.St. Kalmar/Exclusiv) at Grand Prix as well. Charlotte Dujardin has recently dipped her toe in the Trakehner world by taking over the ride on German-bred, rising Grand Prix star Erlentanz (Latimer/Eldana/Benz). Most recently, they won the CDI4* at Windsor. In the 2018 WEG games, Rikke Svane of Denmark competed Finckenstein TSF (Latimer/Kennedy). Olympic 2016 and WEG 2018 representative Selten HW represents a Hanoverian/Trakehner blood with a heavy dose of E.H. Hohenstein on the dam's side. Glock's Dream Boy also carries the Balzflug Trakehner line on the dam's side.
A representative For the Russian Trakehners, Mister X (Egejus/Derbi) has competed extensively on the FEI big tour with Russian rider Inessa Merkulova. The pair have attended the 2014 and 2018 WEGs, 2016 Olympic games, and the 2018 World Cup finals. Mister X was bred at the Traken Rossiya Stud Farm in the Kursk region, and his pedigree not only represents the royal blood from Trakehnen that most Trakehners share but also includes heavy influence of the Russian Trakehner blood.
To conclude the "who" section, here are some hot (as is popular) bloodlines to be aware of the modern world Trakehners have built:
Millennium (Easy Game/ St.Pr.St. Merle/E.H. Ravel) is the handsome, jet black grandson of E.H. Gribaldi. He was the reserve champion at his licensing in 2010, and he is just beginning his FEI competition with great success under the tutelage of Gestute Sprehe. His sons have become the talk of the Verband with their type, their harmony, active hind ends and shoulder freedom. Sir Sansibar and Ivanhoe are the shining stars of his first presented stallions, as well as Helium in 2014, Kaiser Milton in 2017, and His Choice in 2018. Millennium is an interesting study in "Do Breeders Still Think in Generations" – an article I highly recommend.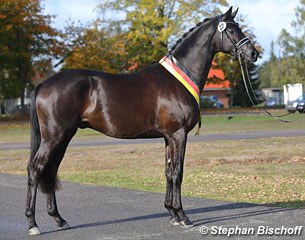 Imperio (Connery/Isar VI/Balfour xx) is the striking, elegant grandson of E.H. Buddenbrock and son of Connery, who upon his death, left twelve licensed sons. Of Connery's licensed sons, Imperio is most likely the most well-known. He's an incredibly elastic, expressive mover, with typey bone and ground-eating canter. Imperio has successfully been produced through Grand Prix under Hubertus Schmidt, naming them a reserve horse for the 2016 German Olympic squad, Trakehner Stallion of the Year in 2015, and Trakehner Horse of the Year 2016. Of Imperio's licensed sons, the modern black stallion Schwarzgold (Seeconda, by Consul) has been consistently producing approved sons. In 2018, Instagram was the reserve champion. In 2017, In Verschung (out of Likoto xx) was licensed and sold to Hessia. In 2016, In Step (out of In Freude) was licensed as a premium stallion, who was highly praised but "his jaws are rather massive." 2016 also saw the licensing of Speedway (out of Shahira), his walk keeping him from premium grading status. 2013 saw the licensing of two additional Imperio sons: Gallardo (out of Gute Zeit) and Empire State (Eviva), and in 2015, the stallion Perpignan Noir was champion of his licensing, grandson of Imperio, by Schwarzgold.
Saint Cyr (Kostolany/Scwalbenspiel/Exclusiv) is classy, big bodied sport horse in a smaller package with delightful cadence, and a soft, empathetic expression. He has had great success in producing licensed prodigy. In 2014, High Motion (Hanna VII) was reserve champion, praised for his walk that was the best walk the committee had seen in ages and his complete package. Greenwich Park (Pr.a.St.Pr.St. Grace Nolte) was licensed in the same proceedings, and he could do no wrong in any phase, and he was quite striking with his dark color, four high socks, and a sweeping blaze. In 2015, Under Fire (out of an Easy Game mare) was licensed and is yet another complete package with his dark bay coat and ground covering movement from behind. In 2016, High Five (Hama VII) was licensed, as was his full brother High Five in 2014. He was not quite as impressive as his reserve champion brother, but a nice horse overall. In 2017, Under and Over (Likoto xx) was licensed. High Quality was also fully licensed, alongside the first stallion of High Motion's foal crop – Special Motion – in 2018.
Herbstkönig (Interconti/Herbstlied V/ Timber) has proven to be a grand addition to the breed. The refined and elegant stallion contains nearly 40% of TB blood, substantially more than the average and was named premium at his inspection. Unfortunately, he was lost at the young age of eight due to a bone disease. In 2014 Albarolo (out of Acelya) and Donauherbst (out of Donauried) both gained their licensing. In 2015, classy Mondrain (Moresca/Munschhausen/Monabelle) earned his license as well. 2016 Donaumond (Donauelfe/Konigsmarck/Donausonne II) while a bit ordinary on the outside, proved a well moving and approved stallion. In 2017, United Affair (Unesca IV/ E.H. Sixtus/Undine X) was 3rd in his approval year – a versatile and handsome bay. No sons were presented for approval in 2018.
Honoré du Soir (E.H. Easy Game/Lara Croft/E.S. Latimer), an uphill and engaging mover, is one to watch for the future. Out of his first foal crop, he produced Champion of the 2018 stallion licensing Kattenau (Kiss Me Kate/Perechlest/Karcassonne). With a tremendously refined face, beautiful body harmony, and substantial bone, he was the clear highlight of the licensing. With many more colts on the ground, I would expect to see more of his blood in the future approvals.
Distelzar (E.H. Gribaldi/Distegold/Arogno) seems to have re-immerged into the breeding world. Maybe that is because of his perfect 10 for rideability and 8.3+ for dressage and jumping. Previously, the classy bright bay produced two licensed stallions C'est Bon (Coonya Vom Klosterhof/Tycoon/Charisma Von Klosterhof) and Donauzar (Donaumaerchen I/Caprimond/Donauquelle II). Having personally worked with one of the few C'est Bon colts in the states, I can say I was impressed with the brain and substance from the get-go. More recently, Sir Picasso (Sirikit/Pretty Dancer/Suentellied) was the reserve champion in 2017. Not to play favorites, but this one is remarkably handsome and a noble representation of the breed. I'm quite excited about him. He works well over the back in a lovely young horse balance and could not be more expressive.
Herakles TSF (E.H. Gribaldi/Helenah De L/Michelangelo) is a modern and long-legged reserve champion of his 2011 licensing. He's developed into quite the handsome stallion. In 2017, Dezember (Donauweise/Imperio/Donaufruede II) was given approval and premium status.
Imhotep (E.H. Gribaldi/Iman Holt/E.H. Hohenstein) is another lovely dark-colored champion of his stallion licensing, this time in 2010. In 2018, Grappa Nero (Pr.St. Garcia Patrizia/Alter Fritz/Gloriette III)was granted premium status. Both stallions are ones to keep an eye on.
I wish I had more to add on the American Trakehner. Currently, there are only 30 stallions approved for breeding in the states, some U.S. bred, and others imported from abroad, and some of them living on through frozen semen. I am looking forward to the annual Trakehner convention taking place in Texas this year. Then I can attend the inspection and approval! Hopefully, I'll have more to report then. I'm quite pleased to have a new breed director who is doing great things for the ATA, and I can't wait to share with you what stallions are approved for the ATA this fall.
Next Friday, pt.3: Why Trakehners?